Africa Inspired

IMF SEMINAR EVENT
DATE: October 9, 2023
DAY: Monday
12:30 PM - 1:30 PM
LOCATION: AA02 Al Karaouine
Overview
IMF Inspired is thrilled to welcome three inspiring leaders who are shaping the future of Africa. Join Mo Abudu, CEO of EbonyLife Media, Ory Okolloh, Partner at Verod-Kepple Africa Ventures, and Lamia Tazi, Chairwoman of the Board and CEO of Sothema, for a conversation on resetting the narrative on Africa and looking ahead to a future that is creative, digital, entrepreneurial, and innovative. Kristalina Georgieva, Managing Director of the IMF, and Nadia Fettah, Minister of Finance and Economy of Morocco, will give opening remarks. The conversation will be moderated by journalist Amanda Walker.
Join the conversation via #IMFinspired
Africa Inspired
Panelists
Opening Remarks: Kristalina Georgieva

Kristalina Georgieva
is the Managing Director of the International Monetary Fund (IMF). She is the first person from an emerging market economy to lead the IMF since its inception in 1944. Before joining the Fund, Ms. Georgieva was Chief Executive Officer of the World Bank and also served as Interim President for a time. Previously, she served at the European Commission as Vice President for Budget and Human Resources – and as Commissioner for International Cooperation, Humanitarian Aid and Crisis Response. She was named "European of the Year" and "Commissioner of the Year" by European Voice for her leadership in the European Union's humanitarian response to crises.
Opening Remarks: Nadia Fettah

H.E. Nadia Fettah, appointed by His Majesty King Mohammed VI on October 7, 2021, is the first woman appointed to this position in the Kingdom of Morocco. Born in 1971, H.E. Nadia Fettah was the Minister of Tourism, Handicrafts, Air Transport, and Social Economy between 2019 and 2021. A high school graduate from the "Ecole des Hautes Etudes Commerciales" in Paris in 1994, H.E. Nadia Fettah started her career as a consultant in one of the largest financial studies offices before founding an investment fund in Morocco, which she managed for five years. After managing a Moroccan insurance company, H.E. Nadia Fettah accompanied a global holding corporate in developing its capital in Africa and the Middle East. In 2017, H.E. Nadia Fettah was Chief Executive Manager of a group of companies in Africa before being appointed as Minister. In parallel to her ministerial mission, H.E. Nadia Fettah is active in the associative field, as she was one of the founders of the Women's Club, members of the boards of directors, as well as the global network "Women Corporate Directors." H.E. Nadia Fettah was crowned the 2018 title of "The Best Contracting Director" at the African level during a continental meeting organized in Abidjan.
Panelist: Mo Abudu
Mo Abudu, CEO of EbonyLife Media, has made her mark through various endeavors in the corporate world; she has been described by Forbes as "Africa's Most Successful Woman". Abudu oversees EbonyLife Media, comprising EbonyLife Films and EbonyLife Studios, as well as the EbonyLife Creative Academy, a school aimed at accelerating filmmaking skills, and EbonyLife Place, Nigeria's first luxury entertainment resort. She has produced several highest grossing blockbusters to include: Fifty, The Wedding Party, Your Excellency and Òlòtūré.
Mo Abudu's recent success is the launch of Blood Sisters, Netflix's first Original Nigerian series. The show made the Netflix Global Top ten list with over 11 million hours viewed; and Elesin Oba, The King's Horseman, an adaption of renowned playwright Professor Wole Soyinka's play of the same title which premiered at the Toronto International Film Festival 2022. EbonyLife Media has secured several production collaborations with international studios to include: Sony, AMC Networks (USA), Netflix, Starz and Lionsgate, BBC, Westbrook Studios, and Will Packer Productions.
Mo Abudu, is an Executive Fellow of the Hutchins Center for African and African American Research, Harvard University and the African Media Mogul has recently partnered with Idris Elba's Green Door Pictures to empower and uplift talent from Africa and its diaspora by creating new tv and film projects, nurturing rising talent, providing educational and mentoring opportunities, and creating a more inclusive and diverse media landscape.
Panelist: Ory Okolloh

Ory Okolloh is currently a Partner at Verod-Kepple Africa Ventures, a pan-African focused venture capital firm that backs exceptional founders in and from Africa.  Previously, Ory was the Managing Director, Omidyar Network Africa.
She serves on the Board of Directors of several organizations including Safaricom, Thomson Reuters Founders Share Company, the East African Breweries Limited, Deloitte Africa, the Board of Trustees of the Van Leer Group, the Adecco Group Foundation, and is the Chair of the Stanbic Bank Kenya Foundation.
Prior to this, Ory was Google's policy and strategy manager for Africa and a co-founder of Ushahidi. Ory earned a J.D. from Harvard Law School and a B.A in political science from the University of Pittsburgh.
Panelist: Lamia Tazi

Mrs. Lamia Tazi is the Chairwoman of the Board and the Chief Executive Officer of Sothema, N°1 Pharmaceutical company in Morocco and one of the leading corporations in Africa and the Middle East.
After graduating in pharmacy from the University of Liege in Belgium, Mrs. Tazi joined Sothema in October 1997 as executive assistant to the CEO. 3 years later, she was appointed General Manager and head pharmacist of the company.
Over more than 20 years of good and loyal services rendered to the company, Mrs. Tazi was promoted in 2019 to occupy the position of Chief Executive Officer of the company and the Chairwoman of its board.
During her remarkable career, Sothema evolved from a Medium-sized laboratory to the N°1 pharmaceutical company with a turnover multiplied by more than 6 times. In the 500 biggest Moroccan companies ranking, Sothema moved from the 165th position to the 57th rank. Mrs. Tazi contributed significantly to expanding the business of the company, especially in the international market by developing the contract-manufacturer business with a portfolio of large pharmaceutical corporations around the world. It also put Sothema in the spotlight both nationally and internationally by entering some promising markets like those of biotherapeutics, clinical studies, vaccines, etc. Mrs. Tazi also played a major role in transforming Sothema into a modern organization with new procedures and rules, and a focus on innovation, technology, and digitalization.
The leadership of Mrs. Tazi emphasizes values with the aim that Sothema always behaves, in all circumstances, according to its Corporate and Social Responsibility (CSR).
Moderator: Amanda Walker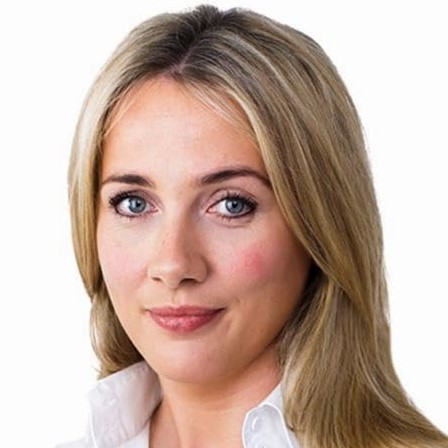 Amanda Walker
is an award-winning British journalist who has spent nearly two decades reporting on breaking news around the world. From 2009 Amanda served as Russia Correspondent for Sky News before heading to Washington DC to become their US correspondent.