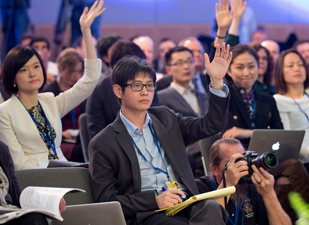 Press
Online registration is open now.
Pick up credentials starting at 12:00 pm on Sunday October 8, 2023.
Press Registration Requirement
All working press must have active 2023 Annual Meetings credentials to attend the meetings in Marrakech, Morocco from Monday October 9, 2023, to Sunday October 15, 2023. Requests for media accreditation will be denied if applicants do not have proof* that they are practicing journalists. This applies to all freelancers, including photographers and bloggers.
To be accredited:
Journalists in the Washington, DC area (United States) must have press credentials issued by either the White House, the U.S. Department of State, the U.S. Department of the Treasury, the House and Senate Press Gallery, the U.S. Department of Defense, or the USIA Foreign Press Center.


Journalists based outside Washington, DC including in Morocco must have:

Valid press credentials issued by national or local authorities;

or


Evidence that they are on assignment from a specific news organization or publication. A valid assignment letter from that news organization, or publication, is required. Photographic agencies and video crews must provide clear evidence from a client news organization or publication.
*If press credentials are not valid, or are in question, it will be at the discretion of the IMF and the World Bank Group to determine whether press access to the 2023 Annual Meetings is granted or not.
Online Press Registration
Journalists who meet the requirements above should apply for 2023 Annual Meetings credentials through this link.
Registration for press credentials is now open. It is advised to apply before September 28, 2023.
The IMF or the World Bank Group will not be responsible for journalists' travel costs and/or other expenses.
Visa Requirements
Accredited Journalists who are traveling from overseas to cover the 2023 Annual Meetings in Marrakech, Morocco, and who need a visa to enter the country, must apply for an e-visa here.
Journalists must first have confirmation of Annual Meetings registration to apply for an e-visa. The confirmation number can be found at the bottom of the accreditation confirmation letter sent by the IMF.
Lodging
The IMF and the World Bank Group are not involved in securing accommodation for members of the press. Check the following information made available by the Moroccan authorities.
Transportation
The 2023 Annual Meeting Participant Guide, with transportation details, will be published soon.
The following information is accurate as of September 6, 2023. Exact dates and timing are subject to change and will be updated here when they become available.
Shuttle service will be provided between both the Casablanca and Marrakech airports and official hotels in Marrakech. Attendees will need to present their registration confirmation letter and photo ID to board the shuttle. This shuttle service will run on regular intervals between 6:00 a.m. and 12:00 a.m. Estimated wait time at Marrakech airport will be a maximum of 30 minutes, and a maximum of 2 hours at Casablanca airport. The shuttles from Casablanca will take passengers to a transfer point downtown Marrakech, from where they will be transported to their respective hotels.
Service for Arrivals: October 5 to 13
Service for Departures: October 13 to 16
Shuttle services will also be provided between all official hotels and the Meetings Campus from October 8 to 15. The shuttle service will run on regular intervals from 7:00 a.m. until 9:00 p.m.
Press Credentials Pick-Up
Press and journalists can start collecting their AM23 badges starting at noon on Sunday October 8, 2023, from the Annual Meetings' Campus' East Entry Main Registration area. Journalists must show their valid current press credentials or assignment letter and their valid government-issued identification to collect their badges.
The 2023 Annual Meetings press credential grants journalists access to the press center, press conferences, public events, and seminars on campus.
Representatives of Civil Society Organizations should visit the Information for Civil Society Organizations (CSOs) webpage for details on CSO accreditation.
Press Equipment
International Journalists traveling with any equipment needed for coverage (e.g., cameras, LiveU, audio, light), must download and fill in a temporary entry form for audiovisual equipment. The form can be found here.
After completing and signing the form, please send a scanned copy to mincom_at@yahoo.fr or mincom.drp@gmail.com. Journalists traveling with audiovisual equipment must keep this form and present it upon arrival to Morocco to the Moroccan customs services.
Media based in Morocco do not have to fill in the form.
Press Room Arrangements
The Press Room is in the Atlas Corner on Campus (AC01).
Technicians for broadcast outlets, news wires, and other accredited news organizations may arrange for advanced access to the IMF Headquarters press room through special arrangements with the IMF's Media Relations division (media@imf.org). Please cc Brian Walker (Bwalker@imf.org) and Mayada Ghazala (Mghazala@imf.org) in your email correspondence.
The press room has limited space and operates on a first-come, first-served basis. Each table will be equipped with a power strip. The press center will have wireless (Wi-Fi) access for personal laptops. Computers are not provided to journalists. For further information regarding telecommunications arrangements on campus in Marrakech please contact the Moroccan Planning team (MPT): media@moroccoam2023.ma
Interview Requests
The IMF's and World Bank Group's Media Relations divisions handle requests for interviews with IMF and World Bank Group officials during the Meetings. However, the press officers do not service interview requests for official delegations to the Meetings. Those requests must be made directly to the delegations or through the Executive Directors representing their constituency.
For IMF interview requests, please send an email to: Media@imf.org
For World Bank Group interview requests, please send an email to: Press@worldbank.org
For Moroccan authorities' interview requests, please send an email to: Media@moroccoam2023.ma
Photo Opportunities for TV and Still Photos
There will be photo opportunities at the start of ministerial committee meetings (e.g., the International Monetary and Financial Committee, and the Development Committee), which may be pooled depending on demand.
Photojournalists are requested to assemble 15 minutes prior to the event at the IMF/ Moroccan Planning Team/World Bank media help desks located at the press center on campus.
Availability of Still Photos and Video Clips
A selection of still photos in high resolution will be available after each event on IMF's photoshelter (password: IMFPhoto) and the World Bank's Flickr account. The download and use of images are free of charge but must be credited to the listed photographer and organization when published online or in print. In addition, broadcast quality video clips of selected IMF press conferences will be available for downloading on http://mediacenter.imf.org/ and on www.un.org/unifeed. This service is free of charge.
For download links of open events, please see IMF's media desk located inside the press center.
Edit Booths and Interview Rooms
Journalists can book interview rooms and edit booths through the IMF's media desk located inside the press center on campus. Kindly note that the number of rooms and booths is limited.
Video feeds to edit booths will be 1080i 50 and distributed over an SDI/HDMI cable. Press is responsible for bringing appropriate converters to interface with their laptops.
Schedule of Events and Press Conferences
IMF Press Center
The IMF's Press Center offers advance access to embargoed IMF information. It is a password-protected site for working journalists only.
Log in or register here.
World Bank Group Online Media Briefing Center
The Media Briefing Center offers advance access to embargoed information of the World Bank Group. It is a password-protected site for working journalists only.
Already Registered? Login
Not Registered Yet? Register today!
Contact Information
Contact Information
Name
Phone
Email
Pierre Mejlak, Media Relations Division Chief, IMF
+1 202-623-5784
Pmejlak@imf.org
Randa Elnagar, Senior Communications Officer, IMF
+1 202-623-6528
relnagar@imf.org
Brian Walker, Communications Officer, IMF
+1 202-623-7381
Bwalker@imf.org
Mayada Ghazala, Communications Officer, IMF
+1 202-948-4448
Mghazala@imf.org
David Theis, Press Secretary and Spokesperson, WBG
+1 202-203-0601
dtheis@worldbankgroup.org
Marcela Sanchez-Bender
+1 202-413-4836
msanchezbender@worldbank.org
Adam Hodge (IFC)
+1 202-560-0097
msanchezbender@worldbank.org
Moroccan Planning Team

Media@MoroccoAM2023.ma