EVENT
DATE: October 16, 2021
DAY: Saturday
10:00 AM - 11:00 AM
LOCATION: Virtual
WATCH THE WEBCAST HERE - October 16, 2021
Per Jacobsson Lecture: Globalization after the Pandemic
Overview
Globalization will always be vulnerable to global shocks, as we have seen with the recent pandemic. And economies that embraced globalization, like Europe, are more vulnerable to those shocks than others. The powerful economic logic that led to the rise of globalization – be it the mutual gains from trade, or the benefits of diversifying risk in the face of domestic shocks - remains valid today. But it faces important challenges. Protectionism is rising, climate change is accelerating and industrial policy is shifting. A globalized world in transition means Europe must adapt to reap the benefits in the future.
Per Jacobsson Lecture: Globalization after the Pandemic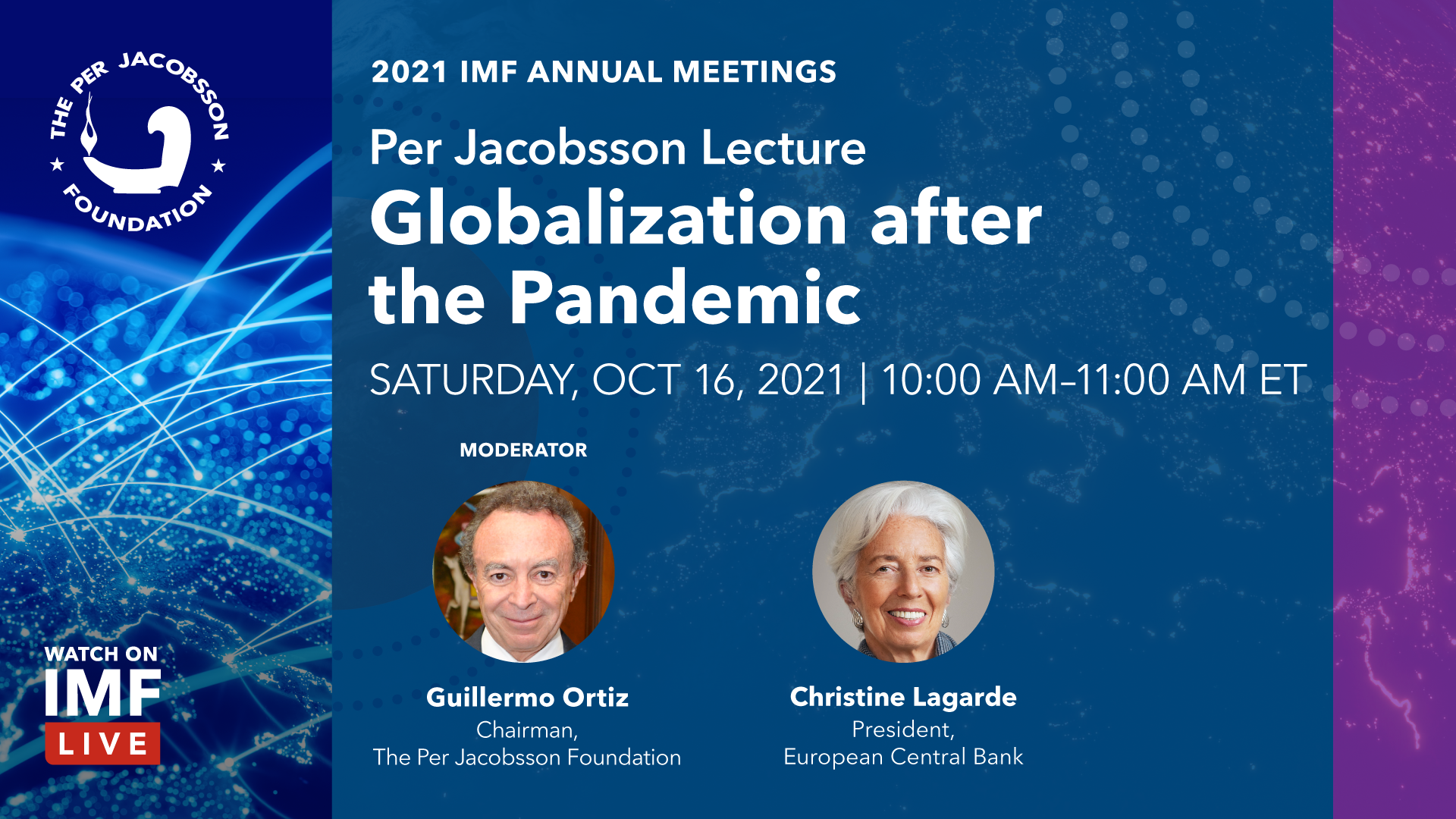 Panelists
Panelist: Christine Lagarde

Since November 2019, Christine Lagarde has been the President of the European Central Bank. Between 2011 and 2019, she served as the eleventh Managing Director of the International Monetary Fund (IMF). Prior to that, she served as the French Economic Finance Minister from 2007 to 2011 after having been the Trade Secretary from 2005 to 2007. A lawyer by background, she practiced for 20 years with the international law firm Baker McKenzie, of which she became global chairperson in 1999. She was the first woman to serve in all of these positions.
In 2020, Lagarde was ranked the second most influential woman in the world by Forbes and has been named by TIME as one of the 100 most influential people in the world. Christine Lagarde was named Officier in the Légion d'honneur in April 2012 and Commandeur dans l'ordre national du mérite in May 2021.
Moderator: Guillermo Ortiz

Guillermo Ortiz is currently Senior Advisor, Board Member of BTG Pactual and former Chairman of BTG Pactual Latin America ex-Brazil. He was Chairman of the Board of Grupo Financiero Banorte from March 2010 to December 2014.
Dr. Ortiz is Chairman of the Per Jacobsson Foundation, and a member of several organizations such as the Group of Thirty. He also serves in the Board of several companies.
He was Governor of Banco de Mexico from January 1998 to December 2009. From December 1994 to December 1997, Dr. Ortiz served as Secretary of Finance and Public Credit in the Mexican Federal Government. He served in the Board of Governors of the IMF, the WB and the IADB.
In 2006 he was appointed to the Board of the Bank for International Settlements (BIS) and was elected Chairman of the Board in 2009. At the BIS he also chaired the Central Bank Governance Forum. He chaired the External Panel for the Review of the Fund's Risk Management Framework at the International Monetary Fund (IMF). He also participated in several working groups to examine aspects of the International Monetary Fund (IMF) governance and finance. Prior to heading the Ministry of Finance in Mexico, he was Executive Director at the IMF.
Mr. Ortiz earned a BA degree in Economics from the Universidad Nacional Autónoma de México and a PhD in Economics from Stanford University.