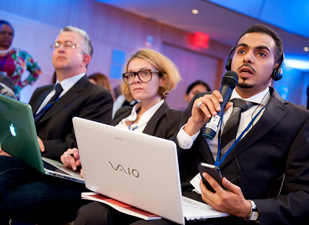 Registration and Accreditation
This year's Annual Meetings events will be held on October 11-17, 2021.
All public and by-invitation-only events—including the Program of Seminars and other public events, ministerial meetings, CSO engagements, and press conferences—will be virtual and accessible on IMF and World Bank digital platforms.
Registration may be required to some of the virtual events. To facilitate accreditation and registration, participants are divided into five different categories, described below. Registration is now open. To allow sufficient time for processing registration applications prior to the Meetings, please submit your registration for Guests and CSOs by mid-September.
Delegates
Observers
Press
Guests
Civil Society Representatives