CNBC Debate on the Global Economy

IMF SEMINAR EVENT
DATE: October 15, 2020
DAY: Thursday
12:00 PM - 1:00 PM
LOCATION: Virtual
Overview
The world economy has been hit by the biggest shock in the postwar era. Governments have responded with unprecedented measures to protect lives and livelihoods. Are we out of the woods yet? Join this debate on the global economic outlook.
Join the conversation via #GlobalEcon
CNBC Debate on the Global Economy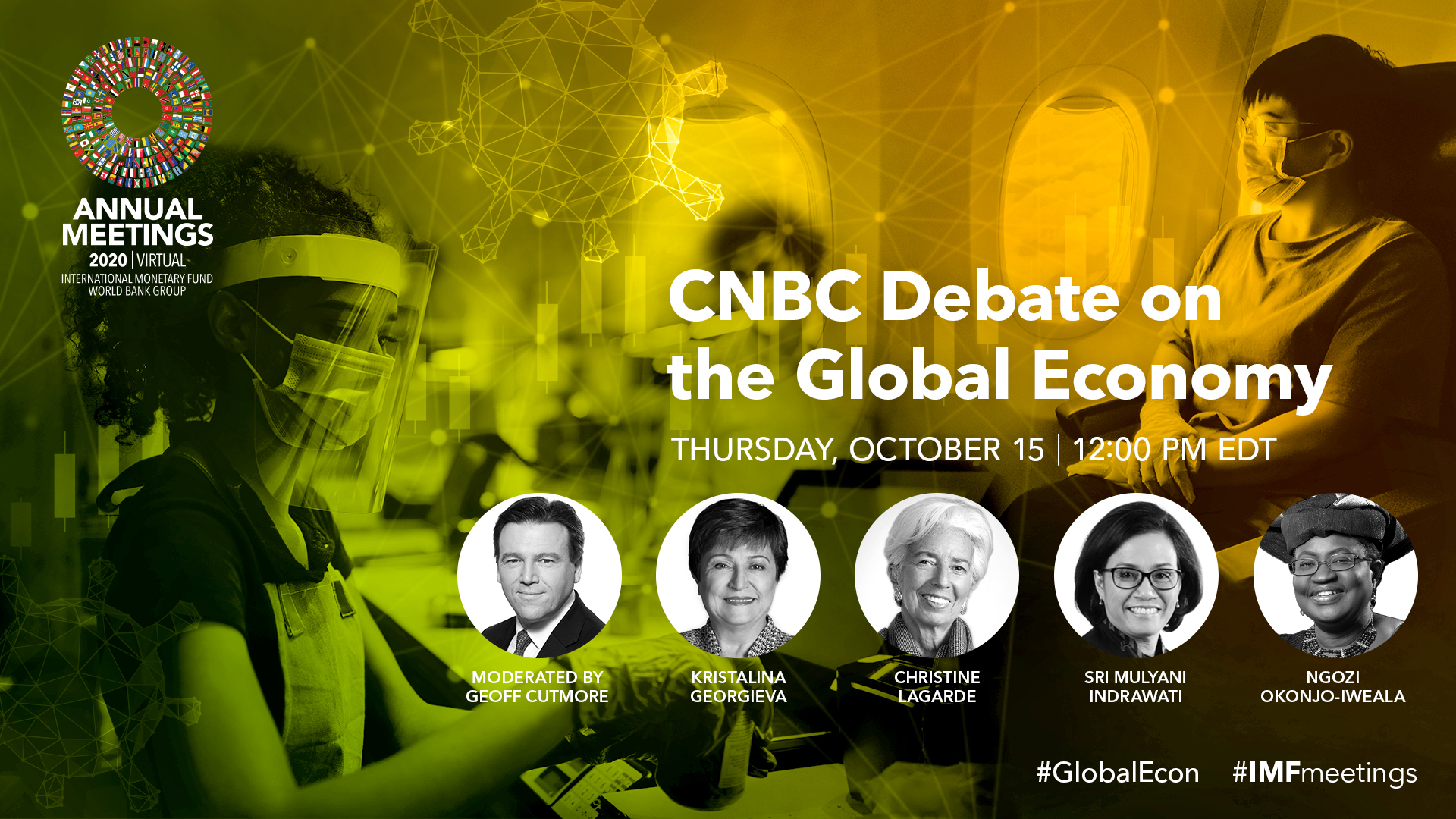 Panelists
Moderator: Geoff Cutmore

Geoff Cutmore is co-anchor for CNBC's flagship Squawk Box programin EMEA.The three-hour show, which broadcasts worldwide five days a week, bookends the opening of European equity markets and is a must-see for financial professionals, C-suite executives and investors.Cutmore is one of CNBC's most experienced presenters, with more than 20 years covering the financial markets. He has anchored programs for CNBC in both Europe and Asia and has particular interest in China having spent nearly a decade working in Hong Kong.Cutmore covers the biggest business gatherings for CNBC including the World Economic Forum meetings in Davos and China, the IMF/World Bank Annual Meetings in Washington, D.C. and the United Nations Climate Change Conferences. He regularly hosts key panels at these events with top newsmakers. Twitter: @GeoffCutmore.
Panelist: Kristalina Georgieva

Kristalina Georgieva
is the Managing Director of the International Monetary Fund (IMF). She is the first person from an emerging market economy to lead the IMF since its inception in 1944. Before joining the Fund, Ms. Georgieva was Chief Executive Officer of the World Bank and also served as Interim President for a time. Previously, she served at the European Commission as Vice President for Budget and Human Resources – and as Commissioner for International Cooperation, Humanitarian Aid and Crisis Response. She was named "European of the Year" and "Commissioner of the Year" by European Voice for her leadership in the European Union's humanitarian response to crises.
Panelist: Christine Lagarde

Since November 2019,
Christine Lagarde
has been the President of the European Central Bank. Between 2011 and 2019, she served as the eleventh Managing Director of the International Monetary Fund (IMF). Prior to that she served as French Economic Finance Minister from 2007 to 2011 after having been Trade Secretary from 2005 to 2007. A lawyer by background, she practiced for 20 years with the international law firm Baker McKenzie, of which she became global chairman in 1999. In all such positions, she was the first woman to serve.
Panelist: Sri Mulyani Indrawati

Sri Mulyani Indrawati is Chair of the Development Committee and Indonesia's Finance Minister since 2016. In 2002, she was the Executive Director representing 12 countries in the South East Asia (SEA Group) at the IMF. From 2005-2010, In 2005, she served as Finance Minister. In June 2010 she was appointed as Managing Director of the World Bank Group. She earned her BA in economics from the Universitas Indonesia in 1986 and her PhD in Economics from University of Illinois Urbana Champaign, USA in 1992. Instagram: @smindrawati
Panelist: Ngozi Okonjo-Iweala

Dr
Ngozi Okonjo-Iweala
is an economist and international development expert with over 30 years of experience. Dr Okonjo-Iweala served twice as Nigeria's Finance Minister, from 2003-2006, 2011-2015, and briefly as Foreign Minister, the first woman to hold both positions. She is Chair of the Board of Gavi, the Vaccine Alliance and of the African Risk Capacity (ARC). She is Co-Chair of The Global Commission on the Economy and Climate. She also sits on the Boards of Standard Chartered PLC and Twitter Inc. Dr Okonjo-Iweala was recently appointed as AU Special Envoy to mobilise international financial support for the fight against COVID-19 and WHO Special Envoy for Access to COVID-19 Tools Accelerator.