Managing Capital Flows: What is the Right Policy Mix?

IMF SEMINAR EVENT
DATE: April 12, 2019
DAY: Friday
12:30 PM - 1:30 PM
LOCATION: IMF HQ1 Atrium (HQ1-1-700)
Overview
How should emerging markets manage large and volatile flows of foreign capital across their borders? The traditional answer has been to use flexible exchange rates as a shock absorber. But flexible exchange rates do not offer full insulation, may not reflect economic fundamentals, and may themselves be too volatile. As a result, country authorities sometimes reach for a mix of tools, including monetary policy, intervention in the currency market, and macroprudential- and capital flow measures. This seminar explores whether and how a more integrated toolkit could be more effective in navigating complex policy tradeoffs. Would such an integrated approach improve outcomes? Or would it make policy less transparent and undermine hard-earned policy credibility?
Join the conversation via #CapitalFlows
Managing Capital Flows: What is the Right Policy Mix?
Panelists
Moderator: David Lipton

David Lipton assumed the position of First Deputy Managing Director of the International Monetary Fund on September 1, 2011. On March 28, 2016, he was reappointed for a second five-year term beginning September 1, 2016. Before coming to the Fund, Mr. Lipton was Special Assistant to the President, and served as Senior Director for International Economic Affairs at the National Economic Council and National Security Council at the White House. Previously, he was a Managing Director at Citi, and also served in the Clinton administration as Under Secretary of the Treasury for International Affairs — and before that as Assistant Secretary. Mr. Lipton earned a Ph.D. and M.A. from Harvard University in 1982 and a B.A. from Wesleyan University in 1975.
Panelist: Mark Carney

Mark Carney is the Governor of the Bank of England and Chair of the Monetary Policy Committee, Financial Policy Committee and the Prudential Regulation Committee. His appointment as Governor was approved by Her Majesty the Queen on 26 November 2012. The Governor joined the Bank on 1 July 2013.
In addition to his duties as Governor of the Bank of England, he serves as First Vice-Chair of the European Systemic Risk Board, a member of the Group of Thirty and the Foundation Board of the World Economic Forum.
Mark Carney was born in Fort Smith, Northwest Territories, Canada in 1965. He received a bachelor's degree in Economics from Harvard University in 1988. He went on to receive a master's degree in Economics in 1993 and a doctorate in Economics in 1995, both from Oxford University.
Panelist: Stanley Fischer

Stanley Fischer served as Vice Chairman of the U.S. Federal Reserve from 2014 to 2017. Previously, Dr. Fischer was Governor of the Bank of Israel from 2005 to 2013 and Vice Chairman of Citigroup from 2002 to 2005. He served as First Deputy Managing Director of the IMF from 1994 to 2001. From 1988 to 1990, he was chief economist of the World Bank. He holds a PhD from the Massachusetts Institute of Technology and taught economics there from 1973 to 1999.
Panelist: Elvira Nabiullina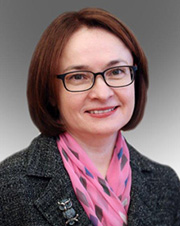 Elvira Nabiullinais theGovernor of the Central Bank of Russia since June 2013. Before that, she served for one year as Advisor to the President of the Russian Federation on Economic Affairs. From 2007 to 2012, she held two consecutive ministerial posts: Minister of Economic Development and Trade (2007–08), where she had previously served as First Deputy Minister (2000–03), and as Minister of Economic Development (2008-2012). In 2003, she was appointed President of the Center for Strategic Research Foundation, where she had beenVice President from 1999 to 2000. She also headed the Expert Council of the Organizing Committee for Russia's G8 Presidency in 2006. Ms. Nabiullina started her career in 1991 at the Directorate on Economic Reform of the Standing Committee of the USSR Scientific and Industrial Union Board.
Panelist: Raghuram Rajan

Raghuram Govind Rajanis the Katherine Dusak Miller Distinguished Service Professor of Finance at the University of Chicago Booth School of Business. He was Governor of the Reserve Bank of India from 2013 to 2016. From 2003 to 2006, Dr.Rajan was Economic Counsellor and Director of Research at the International Monetary Fund.He was a Professor of Finance at the Booth School from 1997 to 2003 and from 2006 to 2013. Dr. Rajan is a member of the Group of Thirty. He was the President of the American Finance Association in 2011 and is a member of the American Academy of 3Arts and Sciences. He holds a PhD from the Massachusetts Institute of Technology.
Panelist: Nor Shamsiah Yunus

Ms.
Nor Shamsiah
is the Governor of Bank Negara Malaysia, assuming office on July 1, 2018. Prior to her appointment as Governor, she served as Assistant Director of the Monetary and Capital Markets Department of the International Monetary Fund. Ms. Nor Shamsiah joined Bank Negara Malaysia in 1987 and has served in various areas including prudential regulations, legislation, policies and guidelines for the financial sector and supervision. As Deputy Governor from 2010 to 2016, she was responsible for banking, insurance and Takaful supervision, financial intelligence and enforcement, talent management, finance and shared services of the central bank. She graduated from the University of South Australia with a Bachelor of Arts in Accountancy and is a Certified Practicing Accountant (CPA).