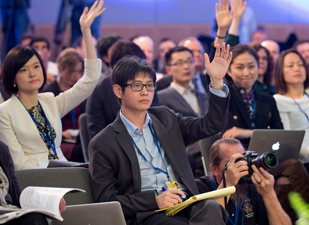 Press
Online registration is open now.
Pick up credentials starting at 8:00 a.m. on April 8, 2019
Press Registration Desk: 1850 I Street, NW, Washington, DC
Press Registration Requirement
All working press must have Spring Meetings credentials to attend the meetings. Requests for media accreditation will be denied if applicants cannot establish they are professional journalists. This applies to all freelancers, including photographers and bloggers.
To be accredited:
Journalists in the Washington area must have press credentials issued by either the White House, the U.S. Department of State, the U.S. Department of the Treasury, the House and Senate Press Gallery, the U.S. Department of Defense, or the USIA Foreign Press Center.


Journalists based outside Washington must have:

Valid press credentials issued by national or local authorities;

OR


Clear evidence that you are on assignment from a specific news organization or publication. A valid assignment letter from that news organization, or publication, is required. Photographic agencies must provide clear evidence from a client news organization or publication.

Submissions should be sent to:


Press Registration
email: press@imf.org
If such credentials are not held, or are in question, it will be at the discretion of the World Bank Group and the IMF to determine whether access to the Spring Meetings is granted.
Online Press Registration
Journalists who meet the requirements above should register online.
Registration for press credentials is open now and close on Saturday, April 13, 2019.
The World Bank Group or the IMF will not be responsible for journalists' travel costs and/or other expenses.
Visa Requirements
Journalists traveling from overseas to cover the Spring Meetings, who are not citizens or permanent residents of the United States, are reminded that they will need to display a valid I visa to immigration officials at their port of entry into the U.S.
Before departure, participants are requested to obtain entry visas for the United States from the U.S. diplomatic or consular missions in their countries. The lack of a valid visa may cause authorities to deny boarding at the port of embarkation, as well as delays in clearance with immigration authorities upon arrival at the port of entry into the United States.
Participants should be aware that changes are being made to U.S. immigration procedures for certain countries, including some which are currently under the Visa Waiver Program. It is strongly recommended that all participants check with their nearest U.S. diplomatic or consular mission, or here, for the procedures which will be in effect at the time of the Spring Meetings. If visas are required, applications should be made as early as possible to allow sufficient time for processing.
Press Credentials Pick-Up
Journalists who have been approved for accreditation can pick up credentials starting at 8:00 a.m. on April 8, 2019, at the Press Registration Desk, located 1850 I Street, NW, Washington, DC. You are required to present press credentials and photo identification.
The Spring Meetings press credentials grant access to the Press Room, press conferences and briefings in IMF Headquarters. At all times, members of the press must be escorted by World Bank Group or IMF staff within office areas of the World Bank Group and the IMF buildings.
Representatives of Civil Society Organizations should visit Information for Civil Society Organizations (CSOs) for details on CSO accreditation.
Press Room Arrangements
The Press Room is located in the IMF HQ2 building, at the corner of 19th St and Pennsylvania Avenue, and will open at 8:00 a.m. on April 8, 2019, and close at 5 p.m. on April 14, 2019.
Technicians for financial news wires and other accredited news organizations may arrange for advanced access to the IMF Headquarters press room through special arrangements with the IMF's Media Relations Division (media@imf.org).
The press room has limited space, and operates on a first-come, first-served basis. Each desk will be equipped with power outlets. The Press Room provides wireless (Wi-Fi) access for personal laptops. For further information regarding telecommunications arrangements within the IMF, please contact Antony Kamunde, tel: 202-623-6731 email: akamunde@imf.org
Computers are not provided to journalists. However, a limited number of internet kiosks will be available in the Press Room. The Internet kiosks allow easy access to the World Bank Group website and the IMF website. The websites will have links to a joint Spring Meetings' site containing the schedule of press events, as well as transcripts, news releases, and other information as it becomes available.
ISDN / Broadband
Interview Requests
World Bank Group and IMF media relations divisions handle requests for interviews with World Bank Group and IMF officials during the Meetings. However, the press officers do not service interview requests for official delegations to the Meetings. Those requests must be made directly to the delegations or through the Executive Directors representing their constituency.
Photo Opportunities for TV and Still Photos
There will be photo opportunities at the start of ministerial committee meetings (e.g. Development Committee and International Monetary and Financial Committee), which may be pooled depending on demand.
Photojournalists are requested to assemble 15 minutes prior to the event at the World Bank Group/IMF Press Desk.
Availability of Still Photos and Video Clips
A selection of still photos in high resolution will be available after each event on the Meetings website and on www.flickr.com/photos/worldbank and www.flickr.com/photos/imfphoto. Download and use of images are free of charge, but must be credited to the listed photographer and organization when published online or in print.
In addition, broadcast quality video clips of selected press conferences will be available for downloading on http://mediacenter.imf.org/ and on www.un.org/unifeed. This service is free of charge.
For World Bank Group events, broadcast quality clips will be available for download. For inquiries please contact Huma Imtiaz at the World Bank Group himtiaz@worldbankgroup.org at +1 202-473-2409.
Television Transmission, LiveUs and Facilities
To inquire about the video and audio transmission arrangements from IMF Headquarters, please contact Brian Walker at the IMF at bwalker@imf.org. Please note that LiveUs, transmission based on WiFi or cellular cannot be used within the IMF buildings.
Satellite Trucks
Broadcasters who would like to do live interviews may park their trucks on the street with prior clearance. Please contact Wanda Ellis at DC Dept of Public Works (contact number +1 202-671-2003) for information regarding to arrange reserved parking the trucks.
Press Conferences
A tentative schedule of the press conferences will be available.
All press briefings are transcribed and posted on the external websites of the World Bank Group and the IMF as soon as possible. Most briefings will also be webcast live.
Only press are allowed entry into press conferences/briefings.
World Bank Group Online Media Briefing Center
The Media Briefing Center offers advance access to embargoed information of the World Bank Group. It is a password-protected site for working journalists only.
Already Registered? Login
Not Registered Yet? Register today!
IMF Press Center
The IMF Press Center offers advance access to embargoed IMF information. It is a password-protected site for working journalists only.
Already Registered? Login
Not Registered Yet? Register today!
Contact Information