Helping Countries Strengthen Social Spending
IMF SEMINAR EVENT
DATE: October 16, 2019
DAY: Wednesday
11:30 AM - 12:30 PM
LOCATION: IMF HQ1, Meetings Halls A&B (HQ1-3-430 A&B)
Ali Aslan, International TV Presenter and Journalist, summarizes key points from the IMF seminar on
Social Spending.
Overview
Social spending is a key ingredient for fostering inclusive growth and stable societies. How can countries raise more resources for social spending and make the most of the scarce resources they have? And are there best practices when it comes to making sure that social spending is adequate, efficient and financially sustainable?
Join the conversation via #SocialSpending
Helping Countries Strengthen Social Spending
Social spending is a key ingredient for fostering inclusive growth and stable societies. The panel discussed how countries can raise more resources for social spending and best practices to ensure that social spending is adequate, efficient, and financially sustainable.
Key Points:
Financing social spending. Panelists agreed on the importance of progressive tax systems in providing adequate resources for social spending. Byanyima, Goldin, Swan noted the need to address the race to the bottom of taxation, one of the failings of globalization. Greenfield stressed the role of the private sector in supplementing financing for social spending, while Byanyima cautioned that private solutions often hurt those on the margins of society.


Success stories. Swan underscored that, in terms of best practice, equity in tax systems and expenditure is critical for ensuring buy-in for tax reform. Goldin highlighted Denmark and France as good examples of countries that have been able to successfully tax and redistribute income, positively impacting the lives of their citizens. Byanyima noted that Ethiopia, even with its limited resources, was successful at expanding education to all children.


Role of key stakeholders. Byanyima urged the Fund to do more to safeguard social spending in times of austerity and to move away from advising countries to adopt consumption taxes. Greenfield highlighted the focus of the ILO on universal social protection and noted the need for the ILO to accelerate its programs. Goldin observed that academia, because of its long-term view, is well placed to look at the global experience and help countries take advantage of lessons learned in providing effective social spending.
Panelists
Opening Remarks: Tao Zhang

Mr. Tao ZHANG assumed the role of Deputy Managing Director at the IMF on August 22, 2016. He brings extensive international economic expertise and experience in policymaking, including with international financial institutions, from his previous appointments as the Deputy Governor of the People's Bank of China and IMF's Executive Director for China from 2011 to 2015.
Prior to his position as the Deputy Governor, Mr. Zhang held a number of high-level positions in the People's Bank of China: Director-General of the Legal Affairs Department; Director-General of the International Department; and, Director-General of Financial Survey and Statistics Department. Mr. Zhang also worked at the World Bank from 1995 to 1997 and at the Asian Development Bank from 1997 to 2004.
Mr. Zhang holds an M.A. and Ph.D. in International Economics from the University of California, Santa Cruz, as well as a B.S. in Electrical Engineering and an M.S. in Finance from Tsinghua University in Beijing.
Moderator: Ali Aslan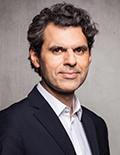 Ali Aslan
(TV Presenter and Journalist) is an international TV presenter and journalist with over 20 years' experience as a talk show host, news anchor, correspondent and moderator. His journalistic career spans across three continents and includes work for CNN in Washington DC, ABC News in New York, Channel News Asia in Istanbul and Deutsche Welle (DW) TV in Berlin. An experienced TV anchor, Aslan hosted the international talk show "Quadriga" on DW which reached 200 countries and 90 million viewers each week. Aslan studied International Affairs and Journalism at Columbia University and International Politics at Georgetown University.
Panelist: Winnie Byanyima

Winnie Byanyima
is the Executive Director of Oxfam International. She is a leader on women's rights, democratic governance and peace building. She served for eleven years in the Ugandan Parliament, and has served at the African Union Commissionand as Director of Gender and Development at the United Nations Development Program. She co-founded the 60-member Global Gender and Climate Alliance and chaired a UN task force on gender aspects of the Millennium Development Goals, and on climate change.Born in Uganda, Ms. Byanyima was elected for three terms and served eleven years in the Ugandan Parliament. She led Uganda's first parliamentary women's caucus, championing ground-breaking gender equality provisions in the county's 1995 post-conflict constitution. A world recognized expert on women's rights, she founded the still-thriving civil society organization Forum for Women in Democracy (FOWODE). She has served at the African Union Commissionand as Director of Gender and Development at the United Nations Development Program.Ms. Byanyima is a signatory to her country's 1985 peace agreement and has helped to broker and support women's participation in peace processes in Rwanda, South Africa, Burundi, Sudan and other countries emerging from conflict. Ms. Byanyima was recently appointed Executive Director of UNAIDS.
Panelist: Ian Goldin

Ian Goldin
is the Oxford University Professor of Globalisation and Development, the Director of the Oxford Martin Programme on Technological and Economic Change and the founding Director of the Oxford Martin School. Ian previously was Vice President and Director of Policy at the World Bank, after serving as Chief Executive of the Development Bank of Southern Africa and Economic Advisor to President Nelson Mandela. Ian has served as Principal Economist at the EBRD and Director of Programmes at the OECD Development Centre. Ian has a BA (Hons) and BSc from the University of Cape Town, an MSc from the London School of Economics, and a MA and DPhil from the University of Oxford. Ian has been knighted by the French Government and has published 21 books.
Panelist: Deborah Greenfield

Deborah Greenfield
is the Deputy Director-General for Policy at the International Labour Organization. In that capacity, she leads the ILO's policy, research, and statistical work across the range of labourand employment issues addressed by the organization. These include the ILO's initiatives on the future of work, global supply chains, labour relations, working conditions, and inequality. Ms. Greenfield also leads the ILO's participation in the G20, G7 and BRICS.Before joining the ILO, Ms. Greenfield served in the Obama administration as Deputy Solicitor for the U.S. Department of Labor, where she advised the Secretary of Labor and other senior officials on legal and policy matters. Ms. Greenfield was anAssociate General Counsel for the AFL-CIO as well as an appellate and Supreme Court lawyer for the Department of Labor and an attorney for trade unions. She holds a J.D. with honors from the University of Pennsylvania, an M.A. from the University of Sussex, and a B.A. with high honors from Swarthmore College.
Panelist: Wayne Swan

Wayne Swan served as the Treasurer of Australia for nearly six years, including three years as Deputy Prime Minister. He was one of the longest serving finance ministers in the G20 and was recognized as one of its leading contributors, drawing on his unique experience overseeing Australia's economic outperformance among the developed world. Mr Swan was awarded Euromoney Finance Minister of the Year in 2011 for his 'careful stewardship of Australia's finances and economic performance' during the global financial crisis. He was only the second Australian to receive this accolade and the first for almost 30 years. His focus as Treasurer was on strong, secure economic growth and job creation. A Member of the Australian House of Representatives Australian Parliament for 24 years (until he stood down at the last general election), he is currently serving as the National President of the Australian Labour Party and has held senior roles within the party since 1993. He is a member of the Independent Commission for the Reform of International Corporate Taxation (ICRICT).