Youth's Take: Tackling Inequality in the 21st Century

IMF SEMINAR EVENT
DATE: October 16, 2019
DAY: Wednesday
3:45 PM - 4:30 PM
LOCATION: IMF HQ1 B-640
Overview
Chief Economist Gita Gopinath shares the stage with two young leaders who recently won F&D magazine's global student essay contest on how best to tackle inequality in the 21st century. This event will feature an interactive dialogue about climate change, urbanization and more, including a Q&A with the studio audience and with live-stream viewers from around the world.
Join the conversation via #IMFYouth
Recommended Reading
Youth's Take: Tackling Inequality in the 21st Century
Panelists
Opening Remarks: Carla Grasso

Carla Grasso, a dual national of Brazil and Italy, became Deputy Managing Director and Chief Administrative Officer (CAO) of the Fund in 2015. Ms. Grasso oversees all the Fund's administrative functions, coordinates the budget, human resources, technology, general services, and internal audit. She also oversees the IMF's capacity-building and training work. Before coming to the Fund, Ms. Grasso worked at Vale S.A., one of the world's largest mining companies, serving as Vice President for Human Resources and Corporate Services. Before joining Vale S.A., Ms. Grasso served as Secretary of the Brazilian Supplementary Social Security Office, and also held several positions as Advisor and Coordinator in the Ministries of Social Security, Finance, and Planning, as well as in the Office of the President of Brazil. She was also Professor of International Economics and Monetary Economics at the Pontifical Catholic University of Brasília, of Economy Mathematics at the Centro Universitário do Distrito Federal, and of Business Education at Insper (Instituto de Ensino e Pesquisa) in Sao Paulo. Ms. Grasso holds a Masters degree in Economic Policy from Universidade de Brasília.
Moderator: Gita Gopinath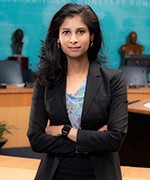 Gita Gopinath is the Economic Counsellor and Director of the Research Department at the International Monetary Fund. She is on leave of public service from Harvard University's Economics department where she is the John Zwaanstra Professor of International Studies and of Economics. She has authored numerous research articles on exchange rates, trade and investment, international financial crises, monetary policy, debt, and emerging market crises. She is the co-editor of the current Handbook of International Economics and was earlier the co-editor of the American Economic Review and managing editor of the Review of Economic Studies. She had also previously served as the co-director of the International Finance and Macroeconomics program at the NBER, and member of the economic advisory panel of the Federal Reserve Bank of New York.
Presenter: Elizabeth Schulze

Elizabeth Schulze is a correspondent covering technology at CNBC International. Elizabeth regularly covers and breaks global tech news live on CNBC's "Squawk Box Europe" and "Worldwide Exchange" programs. Her original reporting on the intersection of technology, finance and policy has attracted attention from global policymakers and the world's biggest technology companies.
Panelist: Lyndsay Walsh

Lyndsay Walsh
is a graduate in natural sciences, specializing in zoology, of Trinity College in Dublin, Ireland, where she is currently studying for a master's in development practice. Lyndsey is the winner of Finance & Development magazine's 2019 global essay competition for graduate students on how best to tackle inequality.
Panelist: Tarik Gooptu

Tarik Gooptu
is a graduate of the master's of philosophy program in economics at the University of Oxford in the United Kingdom. Originally from Washington, D.C., he holds a bachelor's degree from the University of Michigan in economics and political science. Tarik placed second in Finance & Development magazine's 2019 global essay competition for students.