Empowering Women in the Workplace

IMF SEMINAR EVENT
DATE: October 9, 2018
DAY: Tuesday
2:00 PM - 3:00 PM
LOCATION: Bali International Convention Center (BICC), WE-2-Nusantara 1 & 2
Overview
This panel discussion covers how increasing female participation in the labor force can support countries' growth, development, and stability objectives, including on policies geared toward helping women cope with new technologies. The panel will draw on IMF's new research on gender diversity and resilience and will discuss the future of work. The panel will focus on which policy designs are most successful at increasing women's empowerment and how these policies could support countries' growth, development, and stability objectives; including by discussing policies needed to help women cope with technological change.
Join the conversation via #Women4Growth
Empowering Women in the Workplace
Panelists
Moderator: Rosianna Silalahi

Rosianna Silalahi is a television journalist and host for a prime time talk show. She interviewed world leader from US President Jimmy Carter, President George Bush, Iranian President Ahmadinejad, Mahatir Muhammad, Lee Kuan Yew, and Chile President, Michelle Bachellet. She was also awarded for the best TV News Presenter for 4 consecutive years. She is now Kompastv News Director and hosts a prime time talk show "Rosi."
Panelist: Christine Lagarde

Since November 2019, Christine Lagarde has been the President of the European Central Bank. Between 2011 and 2019, she served as the eleventh Managing Director of the International Monetary Fund (IMF). Prior to that, she served as the French Economic Finance Minister from 2007 to 2011 after having been the Trade Secretary from 2005 to 2007. A lawyer by background, she practiced for 20 years with the international law firm Baker McKenzie, of which she became global chairperson in 1999. She was the first woman to serve in all of these positions.
In 2020, Lagarde was ranked the second most influential woman in the world by Forbes and has been named by TIME as one of the 100 most influential people in the world. Christine Lagarde was named Officier in the Légion d'honneur in April 2012 and Commandeur dans l'ordre national du mérite in May 2021.
Panelist: Priyanthi Fernando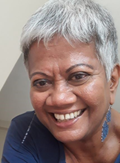 Priyanthi Fernando is the Executive Director of the International Women's Rights Action Watch, Asia Pacific. An advocate for women's rights, and a social development and communications professional with over 30 years of experience, Priyanthi has worked in the areas of technology, infrastructure and poverty in a range of countries and has led several international organisations. She holds a Masters Degree in Mass Communications from the University of Leicester and a Bachelors Degree in Sociology from the University of Peradeniya, Sri Lanka.
Panelist: Sri Mulyani Indrawati

Sri Mulyani Indrawati is Indonesia's Finance Minister since 2016. In 2002, she was the Executive Director representing 12 countries in the South East Asia (SEA Group) at the IMF. From 2005-2010, In 2005, she served as Finance Minister. In June 2010 she was appointed as Executive Director of the World Bank Group. She earned her BA in economics from the Universitas Indonesia in 1986 and her PhD in Economics in 1992.
Panelist: Vera Songwe
Vera Songwe is the Executive Secretary of the United Nations Economic Commission for Africa. She was currently Regional Director Africa covering West and Central Africa for the International Finance Corporation and non-resident Senior Fellow at The Brookings Institute. Before that, she held a number of positions at the World Bank including Country Director, Adviser and Lead Country Sector Coordinator and Senior Economist. She holds a Ph.D. in Mathematical Economics and a MA in Law and Economics from the Université Catholique de Louvain, and a BA in Economics and Political Science from the University of Michigan.
Panelist: Carolyn Wilkins

Carolyn Wilkins was appointed as the Bank of Canada's Senior Deputy Governor in 2014, for a seven-year term.
As Senior Deputy Governor, Ms. Wilkins oversees the strategic planning and economic and financial research of the Bank. She also shares responsibility for the conduct of monetary policy with the other members of Governing Council, and she is a member of the Bank's Board of Directors.
Ms. Wilkins represents the Bank on the Financial Stability Board(FSB), and is a member of the FSB's Standing Committee on Assessment of Vulnerabilities. She is a member of the IMF's high-level advisory group on Fintech, and chaired the FSB's FinTech Issues Group.