IMF SEMINAR EVENT
DATE: October 14, 2017
DAY: Saturday
4:00 PM - 5:00 PM
LOCATION: IMF HQ1 Atrium
Overview
At its most recent regular Annual Meetings event, Directors of the Per Jacobsson Foundation agreed to host a panel discussion on green financing and related issues at the 2017 IMF/World Bank Group Annual Meetings. The discussion will focus on the key economic and financial issues related to the impact of climate change, including systemic financial stability risks from climate change, regulatory perspectives on green financing with industry perspectives, and measuring the social cost of carbon.
Join the conversation via #ClimateFinance
Join the conversation via #ClimateFinance
Per Jacobsson Foundation Economic and Financial Issues Related to the Impact of Climate Change
Per Jacobsson Foundation Economic and Financial Issues Related to the Impact of Climate Change
Panelists
Moderator: Pilita Clark

Pilita Clark is an associate editor and business columnist at the Financial Times. She writes a weekly column on modern corporate life, as well as features and other articles.
She joined the FT in 2003 as a commissioning editor on the paper's weekend magazine and went on to cover aviation and the environment. She was previously a Washington correspondent for Australian newspapers and a Nieman Fellow at Harvard University.
Panelist: Mark Carney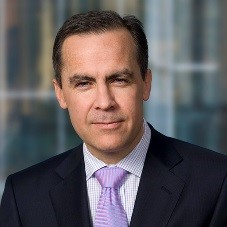 Mark Carney is Governor of the Bank of England and Chairman of the Monetary Policy Committee, Financial Policy Committee and the Prudential Regulation Committee. His appointment as Governor was approved by Her Majesty the Queen on 26 November 2012. The Governor joined the Bank on 1 July 2013. 
In addition to his duties as Governor of the Bank of England, he serves as Chairman of the Financial Stability Board (FSB), First Vice-Chair of the European Systemic Risk Board, a member of the Group of Thirty and the Foundation Board of the World Economic Forum.
Mark Carney was born in Fort Smith, Northwest Territories, Canada in 1965. He received a bachelor's degree in Economics from Harvard University in 1988. He went on to receive a master's degree in Economics in 1993 and a doctorate in Economics in 1995, both from Oxford University.
After a thirteen-year career with Goldman Sachs in its London, Tokyo, New York and Toronto offices, Mark Carney was appointed Deputy Governor of the Bank of Canada in August 2003. In November 2004, he left the Bank of Canada to become Senior Associate Deputy Minister of Finance. He held this position until his appointment as Governor of the Bank of Canada on 1 February 2008. Mark Carney served as Governor of the Bank of Canada and Chairman of its Board of Directors until 1 June 2013. 
Panelist: Maureen Cropper

Maureen Cropper is a Distinguished University Professor and Chair of the Department of Economics at the University of Maryland.  She is also a Senior Fellow at Resources for the Future, a Research Associate of the National Bureau of Economic Research and a member of the National Academy of Sciences.
Professor Cropper served as a Lead Economist in the World Bank's Research Department from 1993-2006 and was a member of the USEPA's Science Advisory Board from 1994-2006, where she chaired the Advisory Council on Clean Air Compliance Analysis and the Environmental Economics Advisory Committee.  She recently co-chaired the National Academy of Sciences Committee on Assessing Approaches to Updating the Social Cost of Carbon.
Professor Cropper's research has focused on valuing environmental amenities, on evaluating the tradeoffs implicit in environmental regulations and on the choice of discount rates for evaluating public policies.  She has published over 80 books and journal articles.  Her current research centers on valuing climate amenities in the US and evaluating energy and environmental policies in India.
Panelist: Ashley Schulten

Head of Responsible Investing for Global Fixed Income at BlackRock. She is a portfolio manager on global green and socially responsible mandates and leads the coordination of the BlackRock firm wide Green Bond effort. She partners with BlackRock's Global Fixed Income team to bring ESG and climate risk integration tools and strategies to the investment process. Prior to this role, she spent several years in the Global Rates Trading team. Previous to BlackRock, Ms. Schulten's work included 20 years as a sell side interest rate and options trader.
Ms. Schulten earned a BA in Political Science from Vanderbilt University in 1992. She serves on the Executive Committee of Green Bond Principles and Cicero's Climate Finance Board. She has contributed to publications on green finance including "Investor Expectations of the Green Bond Market" through Ceres and "Categorizing Climate Risk for Investors" through the Cicero Center for International Climate Research. In her personal capacity, she sits on the Board of the Mianus River Gorge, the first Nature Conservancy land project.
Panelist: Nicholas Stern

Lord Stern is IG Patel Professor of Economics and Government at the LSE and Chairman of its Grantham Research Institute on Climate Change and the Environment. He is a member of the G20 Eminent Persons Group. He was President of the British Academy (July 2013 – July 2017) and elected Fellow of the Royal Society (2014).  He was Chief Economist at both the World Bank, 2000-2003, and the European Bank for Reconstruction and Development (1994-1999).  He was Head of the UK Government Economic Service (2003-2007) and produced the landmark Stern Review (2006) on the economics of climate change. He was knighted in 2004, made a cross-bench life peer in 2007 and appointed Companion of Honour in 2017 for services to economics, international relations and tackling climate change.  His most recent book is "Why are We Waiting?" MIT Press, 2015.